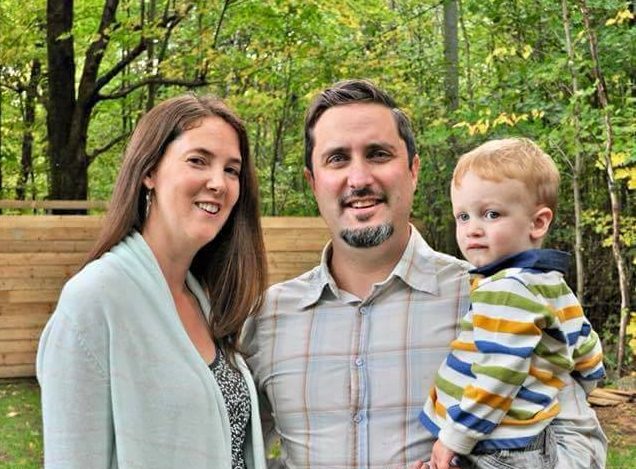 DEAR EXPECTANT MOTHER,
We are Julie, Daniel and Noah. We wish we could sit down and chat with you, but hopefully this will do for now. The decisions you are about to make will likely be some of the hardest you'll have to make in your life. We want you to know that we sincerely admire your strength and courage and feel a great compassion for you and your journey. The gift you may be offering to a fortunate couple truly is the greatest gift anyone can ever give. Whatever decision you make, we are confident that you will make the right one and we admire you for that.
As parents, our goal for your child will be LOVE, LAUGHTER and SECURITY. No day will go by without them receiving our unconditional love and support…along with a few hugs and snuggles of course! Their best interest in life will always be our top priority. They will be taught to LIVE LIFE TO THE FULLEST, to FOLLOW THEIR DREAMS and to be who they want to be. We will teach and hopefully instill in them the values we have learned from our families and hold dearest to us, including KINDNESS, COMPASSION, HUMILITY, GRATITUDE and SELFLESSNESS.
JULIE…BY DANIEL
The moment I met Julie, I knew she would make a wonderful partner and mother. She has all the qualities I was looking for. She is the kindest and most loving person I know. Family is everything to her. She is very close to her parents, all her brothers and sister, cousins, aunt and uncles and grandparents. Knowing she comes from a great family with good values was also important. There is nothing more in the world she wanted than to be a mother. While it was difficult and long, she persevered and never kept giving up hope. She is very strong and very passionate about things. Everyone seems to love her…you could not find a person to say a bad thing about her. She is very thoughtful and dedicated…she is always there for her friends and family. Noah is a very lucky little boy to have Julie as a mom!
Julie's passions in life, other than family and children, are swimming and singing. We have a lot in common, including the fact that we both come from loving and supportive families with good values. We are also both bilingual, both work for the federal government, love the outdoors, are both down-to-earth with great senses of humour! Myself growing up in small town in northern Ontario, I'm really am happy she loves the outdoors and grew up in a family that does too. She was lucky enough growing to have 2 cottages to go to, one on her mom's side of the family and one on her dad's. In the summer, it's really hard to get Julie away from nature and out of the sun!  There is so much I love about Julie and my love for her keeps growing every day when I see her interacting with Noah. She is so loving and has so much love to give, trying to describe it in words could do it no justice.
DANIEL…BY JULIE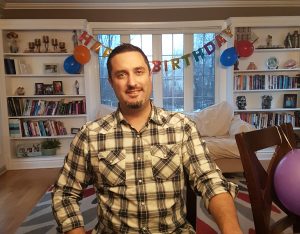 I knew Dan would be a great dad when I met him. He is a very committed and responsible guy.   He is such a good dad to Noah! He pretends to be a dinosaur or a superhero (or whatever Noah wants him to be) just to make him laugh. Sandy, our dog, is also very attached to him due to his playfulness! He has such a big heart. While he does express his love in words, his actions speak even louder. He will do whatever it takes to make me and Noah happy. He also has a great sense of humour and likes to tease me as well as his friends and family. He's also known to play practical jokes sometimes and is able to laugh at himself if ever the favour is returned.
Another quality I like about Dan is that he's definitely not lazy…he works hard both in and outside the home, having an equal role in raising Noah and keeping our home nice and tidy. He likes to work on our yard in the summer…he even cleared our lot so Noah could have a great big backyard to play in. I love that he loves being outdoors and came from a family who went camping, fishing, cottaging, snowmobiling and ATV…just like we did and still do in our family! He really is well rounded as he is very intelligent, fun, clean, down-to-earth and thoughtful. Dan loves to be with his family. Like me, family is his priority and I am so thankful for that! I love his family and am very close to them. These are only some of the reasons I fell in love with him and why Noah is so lucky to have him as a dad!
OUR SON, NOAH
Noah is now just over three years old. It took us a long time to have him, but he was sure worth the wait. He has quite the little personality! We think he may be a comedian some day as he seems to love to make people laugh. He is a bundle of energy and is a very active child. He loves to pretend to be a dinosaur or a superhero and have us pretend along with him. He also loves to race and run and will often challenge us to a little race down the hall or in the basement. He is fascinated with trains, planes and automobiles and plays with his favourite trains from Thomas the Train and his cars from Disney's Cars movies. He loves family activities of all kinds, including visiting his grandparents!
OUR FOUR LEGGED FRIEND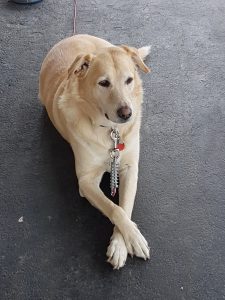 Sandy is our 9 year old female Labrador retriever / Border Collie mix. She is the most mild-mannered and family friendly dog. She has been with us through thick and thin and always seems to know what we are feeling. She loves walks and of course, food. Noah calls her his "big sister". In many ways, she is. She even checks up on him at night to see if he's snug and sound asleep!
OUR HOME
We chose this bungalow and this neighbourhood due to its beautiful surroundings, bigger property and the tranquility and peacefulness. It really does feel like a country home with all the amenities of the big city nearby. Our backyard is surrounded by gorgeous aspen and maple trees as well as our own apple tree and some beautiful flowers!  We spend a lot of time back there in the summer months hosting friends or family for a BBQ, playing backyard games, or for roasting marshmallows over a bonfire!
Noah loves to play in the backyard in the sandbox we built as well as on his swing set and other interesting toys he has.  Our neighbourhood is full of young families with kids…it's especially fun to see them all dressed up on Halloween!
ON ADOPTION
Like most couples seeking to adopt, we have struggled with infertility and have never been able to conceive naturally. While we were very fortunate to have Noah after several rounds of IVF, we definitely don't want to close the chapter on trying to grow our family. We feel we have just too much love to give to give up on having another child. Growing up with large extended families, and in Julie's case with a large immediate family, we've seen first-hand the bond, the closeness and the love having siblings and a bigger family can bring. We have also seen the joy adoption has brought to friends of ours as well as to Julie's cousins. For us, the more people to love and be loved by, the better. We can think of no greater way to realize this than through adoption.
We would like you to know that we are open and flexible to the openness you would be comfortable with. 
THANK YOU!
So, this is us in a nutshell. We hope we have at the very least piqued your curiosity and maybe, just maybe, your interest. While it's hard for us to try and advertise ourselves and stand out amongst the selection of great couples and profiles, we realize how much harder it must be for you to make the decisions you are about to make. Please know that all we want is what is best for you and your child. Whatever path you choose, we wish you and your child nothing but love, health and happiness. ​
If you have any questions for us or would like to chat, we would be honoured to have any conversation with you. We really are an open book, the end still unwritten!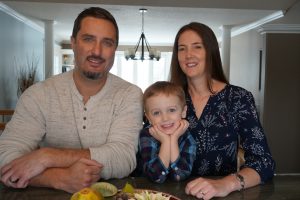 Love,
Julie, Daniel & Noah