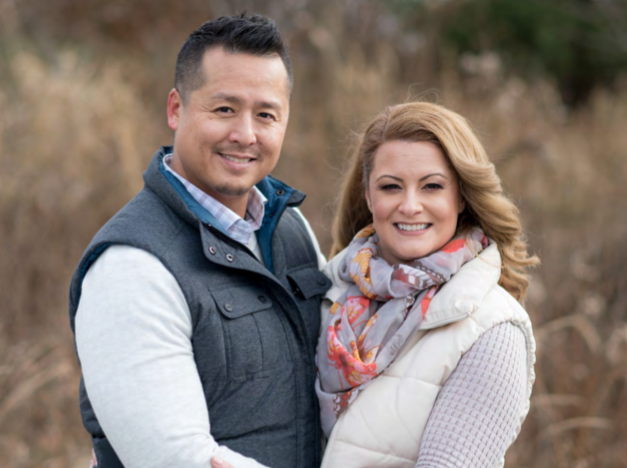 WE ARE DINO AND LISA.  We are fun-loving, a little goofy!…and full of love. And we've dreamt about this day for so long – about growing our family and walking alongside you.  To say we're excited to become parents would be an understatement. We cannot wait for a child to love and hold!   We have always known we wanted children. It was in both our hearts long before we met.
Meet DINO  —  CREATIVE | LOYAL | KIND
Dino is Filipino. He loves spending time at home with Lisa, hanging out with family and friends, being active, and being creative. He enjoys playing and getting creative with kids, working out, cooking a nice breakfast, BBQing, doing house projects, writing screen- plays, sketching cartoons, making 3D models, and playing the guitar.
Lisa says: "DINO IS ONE OF THE MOST WARM-HEARTED, EASYGOING, AND LOYAL PEOPLE I KNOW. He is also strong and steady and keeps me grounded. He is an extremely supportive and caring husband.  I love that he is really playful and consistently brings out joy in others. I already know he will be an amazing father, and I cannot wait for the days of watching him with our son or daughter."
Meet LISA —  PASSIONATE | DEDICATED | NURTURING
Lisa is 1⁄2 Italian and 1⁄2 Welsh.  She loves hanging out with Dino, and with family & friend, the tropical islands, playing board games and collecting 80s memorabilia.  Lisa loves to cook, try new recipes and to do some gardening.  She is passionate about he English language, dancing and music.  Lisa loves travelling and adventures with Dino.
Dino says: "AS SIMPLY AS IT CAN BE PUT, LISA JUST LOVES TO LOVE ON PEOPLE. She is particularly gifted at loving on children, and it's one of my favourite things about her. From the very beginning, I fell in love with her heart. Her caring personality carries through all aspects of her life and she does everything with a desire to do it well. She is also great at gathering everyone together and making people feel safe and wanted. She is going to make an incredible mom."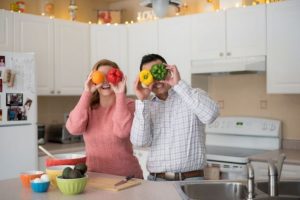 Our Values — IN OUR FAMILY, WE'RE IN THIS TOGETHER
IN OUR FAMILY, WE SHARE, WE LAUGH, AND WE'RE LOUD.
IN OUR FAMILY, WE LOVE FIERCELY AND ARE DEVOTED TO ONE ANOTHER.
IN OUR FAMILY, WE MAKE ROOM FOR MISTAKES.
IN OUR FAMILY, WE CELEBRATE THE GOOD STUFF AND TALK THROUGH THE HARD STUFF.
IN OUR FAMILY, WE LOVE JESUS and we love people. All people.
IN OUR FAMILY, WE'RE ALL IN.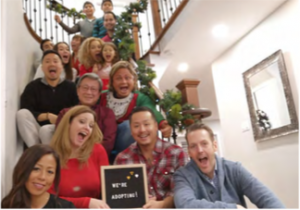 Our HOME — A PLACE WHERE WE ALL BELONG
Our home is comfortable, cozy, and a place where we all belong, where we live, but also where we rest. This is our safe place and shelter in the storm.
OUR HOME IS A SPACIOUS TOWNHOUSE, perfect for our growing family. There are three bedrooms  an open kitchen/living room with lots of space to play and a colourful and inviting back- yard that is always calling our name.
WE ALSO LOVE OUR NEIGHBOURHOOD. Our neighbours are kind and the neighbourhood itself is safe and welcoming. We are surrounded by good schools, fun parks, beautiful forest areas, and a few large ponds. It's also just minutes from our families which means visits are easy and often!

Our PROMISE
AND EVEN IF WE CAN'T SAY IT ALL, WE WANT TO AT LEAST SAY THIS. Because you matter to us. This relationship matters to us. And to the best of our ability, we will ALWAYS keep our promises. And so…
WE PROMISE TO love and cherish this son or daughter with all our hearts for the rest of our lives. WE PROMISE TO provide them with a warm, stable, home filled with laughter, love, and support.
WE PROMISE TO expose them to different activities and encourage them to cultivate their interests.
WE PROMISE TO help them grow into a confident adult who knows who they are and where they belong.
WE PROMISE TO be open and honest and tell them their story, tell them about you, and tell them about love.
AND WE ENVISION an ongoing relationship with you where we stay in contact through the sharing of letters, photos, and visits. We also recognize that not everyone feels comfortable with open- ness and we would respect your wishes in that regard too. Regardless of what you choose, please know we will always talk about you with your child with the utmost love and respect.

Dino & Lisa