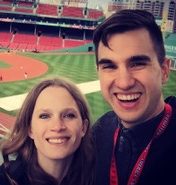 Thank you so much for taking the time to get to know us!
We are so excited about the thought of growing our family through adoption. Since we first began dating, we have spoken about how we both have a deep desire to be parents, and build a family together. We have developed a big heart for adoption over the last several years, and feel so grateful to be on this journey!
Though we both believe strongly in hard work, we have made the commitment to always place our family first.   While we both take the things that we value seriously, we rarely take ourselves seriously, and love to laugh and joke together. We are both fiercely committed to one another, and those we love!
About Leah
I was born and raised in Burlington, where I lived with my two parents and my younger brother. We have dinner with my parents every week! My brother and his girlfriend now live in Calgary, and visit a few times a year.
After graduating from high school, I did my undergraduate degree in Guelph, and then went on to do my law degree at Queen's University. Once I finished law school, I moved back home after getting a job with a law firm, each day is a new adventure, and I'm always learning something new! My career is rewarding, and has taught me so much over the years.  One of my favourite parts of my job involves representing youth who become involved in the court system, and advocating for their best interests.
Beyond my work and spending time with Jesse, I love reading, volunteering at our church and local youth group, as well as spending time with my family and friends! I am lucky enough to have had the same close group of friends since high school, and we still get together all the time for lunch or coffee dates.
My family is so excited for us, and supportive of our decision to grow our family.
Jesse about Leah
Leah is the greatest source of laughter in my life, she is silly, kind, serious, and always considerate. Leah loves planning and is super organized, and she is the one who sets up most of our adventures together. She never fails to wow me with how thoughtful she can be in planning activities and trips that we both love.
Watching Leah interact with her friends and family always leaves me in awe and wonder. Leah cares so much and it is clear that everyone adores her. I am the luckiest man in the world to have her in my life, and I know she will be an amazing mother.
About Jesse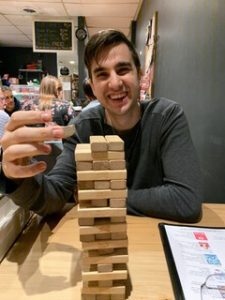 I  am blessed to have a wonderful wife.  My mother and father are both very creative in their painting and other crafts and hobbies.  My brother and his wife are in the process of fostering a baby girl, and are also looking to adopt. Having other members of our family going through the adoption process has been amazing as we can support one another in this journey. I have been blessed with a fantastic family which I hope to be able to share with a new member some day.
 I work in computer programming.  My job gives me the freedom to work remotely, and from home often, which is a real perk!  I love hiking, playing softball, and am teaching Leah how to play Tennis. A few years ago I earned my Black belt in Goju-Ryu Karate (an interest I share with Leah who has done Ju-Jitsu for years).
I have a number of close friends that I grew up with, and still hang out with today. Some of them now have their own children, who Leah and I love to spend time with playing at the park, or taking them on long walks to give their parents a break!
Leah About Jesse
Knowing Jesse, and being his wife, is an absolute joy! He is kind, funny, thoughtful, and cares deeply about his friends and family. I love that he is always up for an adventure.  Our date nights together have included everything from high ropes courses, archery, Paint Nights, or hitting up the batting cages!
While he is deeply committed to the people and things he cares about, I love how he also has a fun side, and can always make me laugh by doing a silly accent, or quoting lines from one of our favourite TV shows!
He is an amazing cook, and loves spending the day in the kitchen trying out new recipes (which I get the benefit of enjoying!)! Jesse is loyal and protective of those he loves, and I know he will be a great father some day.
Our Story
Like any truly modern couple, we met a number of years ago on an dating website.  While dating for shortly over a year, we both realized that we shared a lot in common, including a mutual love for travel and adventure, as well as similar senses of humour. We travelled together, and built close relationships with each others friends and families.  On the day we got the keys for our new house and went over to celebrate, Jesse got down on one knee in our new living room and asked Leah to spend her life with him–and she quickly said yes! After being engaged for about eight months, we got married and have loved every minute of being married since then!
We have always considered ourselves very lucky that we not only love each other, but get along so well with each others friends and family! Our families often now spend birthdays and holidays together, and seeing them come together to build a big extended family has been such a joy.
Our Home & Community
We live in a beautiful home in a quiet, safe neighbourhood, filled with lots of children and families.    We are a short walk from a community centre, parks, hiking trails and great schools.
Some of our favourite activities as a family are hiking, playing tennis at the courts near our house, trying out new restaurants, checking out a baseball game together, or having our friends over for a games night! At the same time, we are also both big readers who love curling up with a good book, or a quiet night in ordering takeout and checking out a new movie on Netflix.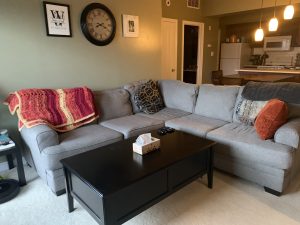 Our Thoughts about Parenting & Adoption
As we move into parenthood, we realize that things in our lives will change dramatically–and this is a change we welcome.  We are fortunate enough that Leah's employment provides her with the opportunity to take a maternity leave, so she will be able to stay home with a child once they join our family.
We look forward to one day passing down the same values that our parents instilled in us. Sports and extra curricular activities were a big part of both of our lives, and we look forward to providing the same support and encouragement we received. We also hope to share the great relationships we both enjoy with our extended family, and any child who becomes a part of our family will be well loved!
Closing Thoughts
We know you are in the middle of making one of the biggest decisions of your life. While we don't know what the future will hold, we can promise if you choose to join your family to ours, you will have the opportunity to have as much or as little involvement going forward as you are comfortable with.
As we've learned more about adoption, we've come to recognize the benefits of an open adoption for all parties involved, and would love to work with you to make that happen. Over time, what you are comfortable with might change, but no matter where you are at we will be there with you throughout this process.
We can commit to putting your child's best interests first, loving and caring for them throughout their lives. As part of that, we will always be supportive of your child having a relationship with you, as well as the rest of their birth family, and promise to always encourage those important connections.  This also includes us always being open with your child about their adoption story, and where they come from.
What you are doing is hard, and we promise that your child will always know the sacrifices you made, to ensure that they had the best life possible. Above all, they will know that they are, and always have been loved.
We hope that knowing more about us, and our commitment to you gives you some peace of mind throughout this process.  From the bottom of our hearts, thank you for taking the time to get to know us. We wish you all the best in your journey, and would be honoured to meet you.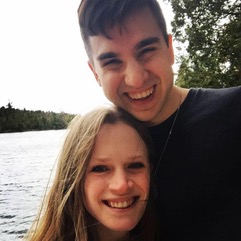 Leah and Jesse